Throne of Glass by Sarah J. Maas                
Series Throne of Glass #1
Published by Bloomsbury USA Childrens         
In a land without magic, where the king rules with an iron hand, an assassin is summoned to the castle. She comes not to kill the king, but to win her freedom. If she defeats twenty-three killers, thieves, and warriors in a competition, she is released from prison to serve as the king's champion. Her name is Celaena Sardothien. 
The Crown Prince will provoke her. The Captain of the Guard will protect her. But something evil dwells in the castle of glass–and it's there to kill. When her competitors start dying one by one, Celaena's fight for freedom becomes a fight for survival, and a desperate quest to root out the evil before it destroys her world.
---
For my inaugural review, I'm going to write about my favorite series of all time:
THRONE OF GLASS by the wonderful Sarah J. Maas
(I've linked the title to the Goodreads page, if you would like to click and learn more.)
There is nothing bad that I can say about this series, other than it sucks you in and consumes your life, ruining all other books for a while. (After Heir of Fire was released, I must have spent a month rereading the entire series three times.)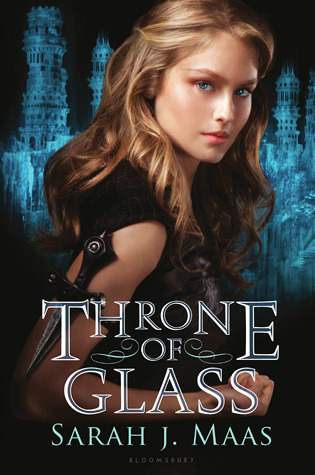 I actually stumbled upon this book when wandering through the shelves at my local library in 2012 (I know, it was 3 years ago but this book stuck with me). I'll admit that I was initially skeptical about the book, mainly because the cover was not the bada*$ one above, but a slightly less intimidating one featuring a cover model holding a dagger (the one to the right). Needless to say, my trepidations proved unfounded, and I discovered one of my favorite series of all time.
Remiscent of The Hunger Games, Celaena is called forth to win her freedom through completion of a series of trials meant to determine the best fighter in the kingdom and make them the King's Champion. Celaena rises up to the challenge, proving herself an excellent fighter. Her strength in the face of such adversity provides a role-model for people of all ages, but her ability to hold onto her sense of self despite the situations she has been thrust into make her a heroine for the ages.
While Celaena captures you heart and mind, other character are not to be overlooked. The thief Nox, one of Celaena's fellow competitors proves mysterious and lovable in his own way (and Sarah J. Maas has hinted that he will return in book 5). The princess Nehemiah, who provides Celaena with a friend and confidant in the castle full of spies. And, of course Prince Dorian Havilliard, and Chaol Westfall, the two love interests of the novel.
I know, love triangles are sometimes overrated but this one provides a new spin on the classic. For many reasons, Celaena's choice is IMPOSSIBLE to make. Other than having to decide between two scrumptious men, her hatred for the King proves a hindrance to any romance between her and the Prince, and her and the Captain of the Guard. I'll let you decide who to ship Celaena with when you read it.
The main complaint that I have read/heard about this book is that while she is called an assassin, she doesn't actually do any "assassinating." To those people, I would reply THIS ISN'T ACTUALLY THE FIRST BOOK OF THE SERIES. There is a series of Novellas that precludes this novel that covers the backstory as to how she got where she was at the beginning of Throne of Glass as well as some of her assassin exploits. 
I would recommend that you read these novellas, which have been compiled into a book The Assassin's Blade, before reading this wonderful series. It really introduces you to Celaena Sardothein and provides some character background that isn't covered in Throne of Glass. (It also introduces character that the author has hinted will appear again later in the series.)
 This was originally posted on my previous blog, and has now been copied over.